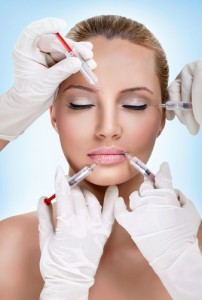 Dermal fillers provide a safe and effective way for men and women to restore a rejuvenated look to their faces. Designed specifically to eliminate fine lines and wrinkles around the nose, mouth, and lower part of the face, filler treatment takes just a few minutes with little to no downtime. At our Birmingham practice we offer JUVÉDERM® and RADIESSE®, which are among the most popular fillers that exist today. Although both of these fillers can noticeably improve an individual's facial appearance, they are made of entirely different materials.
JUVÉDERM®
This filler is made of a substance found naturally inside the body that adds volume and hydration to the skin. The hyaluronic acid in JUVÉDERM® is not derived from animal sources, which ensures no allergic reaction for patients who undergo this treatment. After JUVÉDERM® is injected, the face looks fuller and the wrinkles on the skin become smooth.
RADIESSE®
Composed of microscopic calcium-hydroxyapatite spheres, RADIESSE® contains essential minerals that make skin smooth and firm. Since calcium-hydroxyapatite occurs naturally in the bones of the human body, patients do not need to worry about the risk of an allergic reaction during treatment. RADIESSE® can be injected into various parts of the face, but it is most effective for eliminating fine lines and wrinkles in the cheeks, chin, and jawline. As the gel is harmlessly absorbed into the body, the spheres continue to provide a youthful appearance over an extended period of time.
If you would like to add a youthful appearance to your face, feel free to contact Plastic Surgery Specialists by calling (205) 298-8660 or fill out our online contact form today. Dr. Robert Oliver and Dr. Jason Jack are board-certified plastic surgeons and look forward to meeting you during your initial consultation. They are highly experienced and will be able to help you decide which filler is best suited for you.