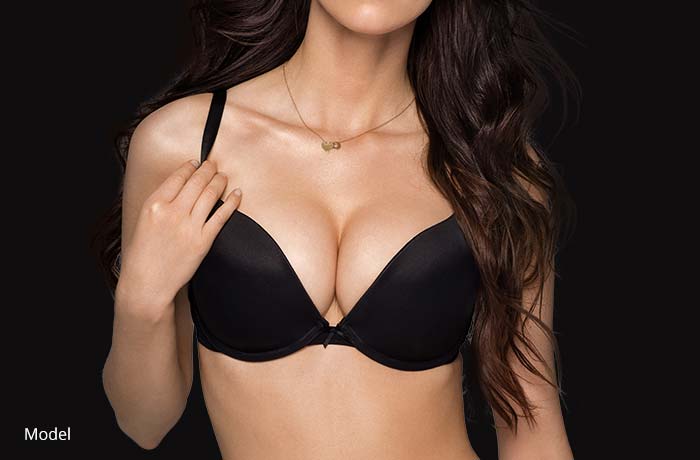 Breast Augmentation
Dr. Robert I. Oliver, Jr. and Dr. Jason M. Jack produce beautiful, natural-looking results with breast augmentation. Alabama plastic surgery candidates in the Tuscaloosa and Anniston may greatly benefit from this procedure.
Due to various factors, women may have small and/or asymmetrical breasts, inspiring them to undergo a cosmetic plastic surgery procedure to improve their appearance. At Plastic Surgery Specialists, Robert I. Oliver, Jr., M.D. and Jason M. Jack, M.D. are breast augmentation specialists in Birmingham, AL who can help patients achieve their goals. Along with a friendly staff, our plastic surgeons strive to provide patients with personalized care, from the first appointment to the last post-surgery visit.
Breast Augmentation in Alabama
Breast augmentation is a surgical enhancement procedure to accentuate the size and shape of a woman's breasts. At Plastic Surgery Specialists in suburban Birmingham, we offer this procedure to patients who desire a fuller profile, who have lost breast volume due to pregnancy or nursing, or who have undergone breast reconstruction and want to gain a more natural look again.
Breast Augmentation, also known as Breast Enlargement, involves using a saline or silicone-gel implant to increase the breast size and to produce a degree of lift where necessary.
Silicone shells filled with saline solution or silicone-gel are implanted either directly under the breast tissue or beneath the chest wall muscle, giving breasts a fuller and more natural contour. A wide variety of implants are available for breast enlargement which your surgeon will discuss with you. At your consultation, your surgeon will explain the type, size and shape of implants that are most suitable for your needs, giving you the breasts you've always wanted.
General Procedure
Breast augmentation involves making a small incision to insert a breast implant into the breast area in order to enlarge the breast. The surgery is commonly performed on an outpatient basis at our state-of-the-art surgical facility while the patient is under a general anesthesia and asleep. There are several possible locations for the small incision that will be used for inserting the breast implant. The most frequent technique utilizes an incision made in the lower portion of the breast (the "inframammary incision"). Another technique, though less frequently used, involves making an incision in the armpit. A third technique makes an incision around the areola (the darker skin surrounding the nipple). The best technique will be decided together between us during your consultation and is selected according to your specific needs.
During surgery, the breast tissue is raised to create an open pocket under the breast tissue or beneath the chest wall muscle. Inserting an implant behind each breast can increase a woman's breast size by one or more bra cup sizes. Implants typically contain either a saline solution (similar to saltwater) or a silicone gel filler. In some circumstances, particularly those in which there is breast asymmetry (uneven breast size), an inflatable implant may be used to allow the surgeon to adjust the level of inflation to attain breast symmetry and balance. Surgery typically lasts from 45 minutes to an hour.
Breast Augmentation Recovery Process
Generally, post-operative instructions call for no heavy lifting or strenuous activity in order to speed up the healing process and recovery time. Bandages are applied right after surgery to aid the healing process and to minimize movement of the breasts. Once the bandages are removed, a specialized surgical bra will need to be worn for several weeks. Since resorbable sutures are used, there is no need for suture removal and drains are usually not needed. Birmingham breast augmentation patients sometimes report minor pain associated with the surgery. This pain can be treated effectively with oral medication. While complications are rare, patients can minimize potential problems by carefully following the directions given by the physician after surgery.
Like the thousands of women who undergo the procedure every year, you too can acquire those measurements you've always wanted, or achieve a desirable symmetry in your body contour.
Please visit our breast augmentation photo gallery to view examples of breast augmentation surgery.
Furthermore, Birmingham, Anniston, and Tuscaloosa breast augmentation patients may wish to undergo other body enhancing procedures. Dr. Jack and Dr. Oliver offer liposuction ("lipoplasty") and tummy tuck surgery ("abdominoplasty") to help patients achieve a more slender shape.
Dr. Oliver is board certified by the American Board of Plastic Surgery (ABPS) and a member of the American Society of Plastic Surgeons (ASPS). Dr. Jack is board certified by the American Board of Plastic Surgery (ABPS), as well as a member of the American Society of Plastic Surgeons (ASPS). Their experience and training provides them the capability to perform your cosmetic plastic surgery procedure, and create natural-looking results.
To schedule an appointment regarding breast augmentation, Birmingham, Alabama candidates, as well as those in Anniston, Tuscaloosa, may call (205) 298-8660 or fill out a contact form. If you prefer, you may also send us an e-mail. During your visit, you can discuss breast augmentation cost and all options involved.