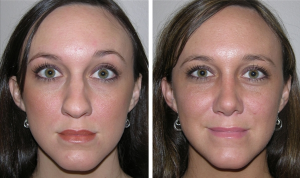 As the coming year quickly approaches, many of us are turning to self-examination and seeking to improve certain areas. In addition to revamping your exercise routine, consider the benefits of beauty enhancement procedures. If you've always wanted to improve your nose, nose surgery (rhinoplasty) can give you the new appearance you want this year.
Refreshing Your Appearance
While there are many ways to refresh your appearance, you'd be surprised to discover how dramatically different you could look with just a few subtle changes made by nose surgery. Since the nose is in the very center of the face, it can make or break your appearance. For instance, a nose that is overly large or wide can make your face look off-balance. Likewise, a nose with a bulbous tip, crooked or bumpy bridge, or large nostrils may draw unwelcome attention. Nose surgery can refresh your appearance by carefully sculpting your nose so that it looks attractive and harmonious with your other facial features.
Achieved With Nose Surgery
Rhinoplasty can significantly adjust multiple aspects of the nose. Popular areas of focus include alteration of the nasal bridge, tip, nostril width, size, bumps or humps, and proportion of the nose to the other facial features. Nose surgery can treat nasal deformities as well as injuries to normalize the appearance of the nose. Some patients even achieve better breathability through the nose as a result of nose surgery. Every rhinoplasty procedure is specifically tailored to the anatomic needs and personal preferences of the patient. Our rhinoplasty specialists will listen carefully to your desires and offer their expertise and knowledge to help you achieve the best results with your nose surgery. By enhancing the shape of your nose, rhinoplasty can help you look more attractive and feel more confident in yourself and your appearance.
The new year is a great time to start afresh. Start your year off right by scheduling your personal consultation for rhinoplasty with Birmingham Plastic Surgery Specialists, Dr. Oliver or Dr. Jack. Call (205) 298-8660 or fill out our contact form online to request your appointment now.