Accredited Surgical Center in Birmingham, Alabama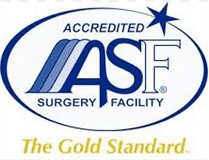 At Plastic Surgery Specialists of Birmingham, Alabama, we aim to offer you the safest and most enjoyable experience possible from your initial consultation all the way to your final check-up exam. To ensure patient comfort and safety, we perform all our out-patient procedures in a surgical facility accredited by the American Association for Accreditation of Ambulatory Surgery Facilities (AAAASF). In addition, our surgical center houses a state-of-the-art operating suite that utilizes the latest innovative technology for outpatient cosmetic procedures.
What Is an Ambulatory Facility?
Ambulatory Surgery Centers (ASCs) are health care facilities that offer same-day surgical care, diagnostic exams, and preventive procedures. ASCs are a more convenient alternative to hospital-based outpatient procedures. Most plastic surgeons work from ASCs because they provide the best care and convenience for their patients.
What Is the AAAASF?
The American Association for Accreditation of Ambulatory Surgery Facilities (AAAASF) is a not-for-profit accreditation program that standardizes and improves the quality of ambulatory surgery facilities. Over 2,000 facilities are accredited by the AAAASF, and they are considered the "gold standard" by surgeons as well as state and national health agencies.
What Does the AAAASF Check?
During the accreditation process, the AAAASF inspects facilities to make certain they meet a list of requirements that ensure patient care and safety. Some of the general guidelines required by the AAAASF include:
Perform pre-operative surgical safety checklist

All patients receiving anesthetic agents other than topical or local anesthesia must be supervised by an adult during the immediate post-discharge period

All surgeons using the facility must meet one of the following credentials:

A doctor of medicine (M.D.) certified by the American Board of Medical Specialties

A doctor of osteopathy (D.O.) certified by the American Osteopathic Association Bureau of Osteopathic Specialists

A podiatrist certified by the American Board of Podiatric Surgery

An oral and maxillofacial surgeon certified by the American Board of Oral and Maxillofacial Surgery

Every surgeon operating in an AAAASF-accredited facility must hold unrestricted hospital privileges in his or her specialty at a licensed acute care hospital within 30 minutes of their facility

Patients with pre-existing medical conditions that make them a significant risk for outpatient surgery are referred to alternative facilities

The facility displays a professional appearance

There is a dedicated operating room

The operating suite includes an operating room, prep/scrub area, a clean area, a dirty area, and a post-anesthesia care unit

The operating room is properly cleaned and maintained
Although Alabama state law does not require a surgical center to be accredited by a third-party source, Plastic Surgery Specialists chooses to maintain its AAAASF accreditation. We want to ensure our patients have the peace of mind knowing that their safety and comfort is our number one priority.
At Plastic Surgery Specialists of Birmingham, Alabama, we look forward to providing you with outstanding patient care from your initial visits all the way to your final follow-up exam. Call us today at 205-298-8660 to schedule your consultation. For your convenience, you may also fill out our online contact form.