3 Minute Read:
Women choose breast lift surgery at many stages in their lives. Some younger women choose breast lift surgery to counteract the effects of significant weight loss. Others choose breast lift surgery after having children. And some wait for breast lift surgery until the natural aging process has taken its toll.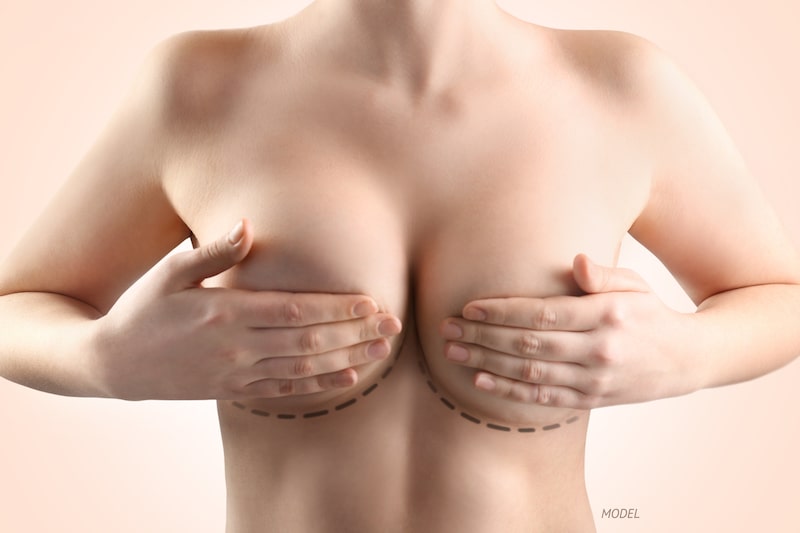 Breast lift surgery revitalizes the breasts in a way that no other breast surgery does, but how long does it last?
This is a very good question. Unfortunately, there is no simple answer. Many variables influence how long any cosmetic procedure will last before the signs of aging begin to take over again.
Some of these variables include your age, weight, lifestyle, family genetics for saggy breasts, and the breast lift technique performed by your plastic surgeon.
Breast lift surgery, also known as mastopexy, is primarily intended to improve the shape and perkiness of sagging breasts.
What Factors Can Cause My Breast Surgery to Fade Quicker?
Breast lift surgery involves tightening glandular tissues and fat and trimming excess skin. This process lifts the breasts and eliminates the sagging, drooping appearance. While this surgery is intended to be long lasting, there are events and practices that can cause the results to fade faster.
What Contributes to Sagging Breasts After a Lift?
You may notice your breast lift results fading if:
You gain or lose significant weight
You become pregnant
You do not wear a supportive bra
Your weight constantly fluctuates
Unfortunately, no matter how well you care for your breasts, some additional laxity will eventually develop. No one can stop the aging process, but you can help to minimize it.
How Do I Keep My Breasts Looking Their Best After Surgery?
Many factors go into maintaining beautiful, natural-looking breasts. You will need to integrate your surgical results with your post-operative care to maintain the best results possible over the long term.
If you're planning on future weight fluctuations or having children, it is best to do this before doing your procedure.
Can I Combine My Breast Lift Procedure With Augmentation?
Yes. But while breast lift and breast augmentation may be performed simultaneously, the surgical approach may differ depending on your breast anatomy and desires.
However, while breast augmentation and breast lift procedures may be combined, it is important to discuss your desired results with your surgeon to determine which procedure(s) will help you achieve your goals.
Will Insurance Cover My Breast Lift Procedure?
No. Insurance carriers do not cover breast lifts. In most cases, breast lifts are considered a cosmetic procedure unless your breast lift is correcting skin rash problems or back problems.
What Does a Breast Lift Look Like?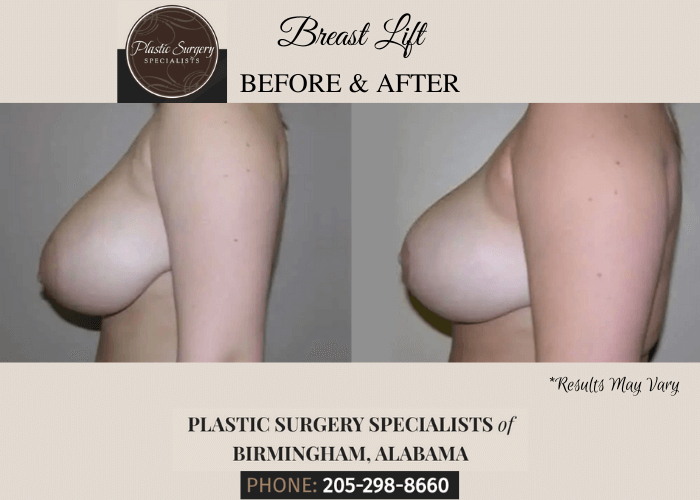 To learn more about what you can expect from your breast lift, view our breast lift before and after photo gallery to learn more.
Why Should I Pick Plastic Surgery Specialists of Birmingham, Alabama, for My Procedure?
Many women choose to undergo breast lift surgery in Birmingham, Alabama. Our plastic surgeons are board-certified and experienced in all aspects of breast surgery, which makes us one of the most trusted names in cosmetic surgery. We invite you to schedule a consultation so we can help you create the natural, beautiful look that you've always wanted.
Contact us on 205-298-8660 today or fill out our online form for more information.