3 Minute Read: 
Virtual meetings with Zoom and other platforms have become all too common since the beginning of the shelter-in-place directives.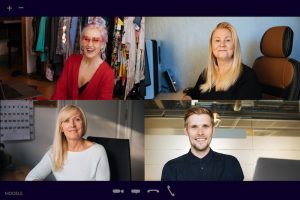 While these technologies have allowed us to adapt, continue to operate, and go about our lives close to usual, many people have had to deal with the unexpected fact of staring at themselves on a screen for longer periods.
The sight of our own faces has made us more aware of the aging signs and all things that could potentially be nagging us about our facial appearance. We start to analyze and notice the sagging skin, the lips that seem a little off, the droopy eyelids, or the crooked or large nose. 
It is for this reason that plastic surgeons worldwide are reporting surges in surgical and non-surgical facial treatments as people seek to improve their facial features.
Which Common Facial Procedures Are on the Rise?
Skin Resurfacing Treatments
Sitting in on a Zoom call with poor lighting and bad cameras can make your wrinkles, sun spots, or discoloration look much worse. This frustration has led many people to consider skin resurfacing treatments to help their skin look smoother, clearer, healthier, and more even.
Common skin resurfacing treatments include laser, chemical peels, and micro-needling.
Injectables
Other non-surgical facial rejuvenation options like BOTOX® Cosmetic and dermal fillers (JUVÉDERM®) are becoming some of the most-asked-for treatments. Injectables are used to address soft-tissue deflation and gravitation effects caused by aging and other lifestyle factors.
The products have carefully crafted formulas that smooth out wrinkles, restore facial volume, and reduce sagging skin with minimal downtime. Both BOTOX® Cosmetic and dermal fillers can be used to address multiple areas of the face to restore a younger and vibrant facial appearance.
Eyelid Surgery
The eyes are the windows to the soul, and, especially during this time of wearing masks, the eyes are all someone can see. Dark circles or bags under the eyes can leave you looking tired or with an aged appearance. Eyelid rejuvenation procedure is being used to reverse these effects making individuals feel like themselves again.
Rhinoplasty
For years now, many potential rhinoplasty patients have been citing selfies as a reason for their surgical desires. This is because the close proximity of the camera distorts the nose's size and shape. This desire has only increased with virtual meetings, where your face is often only a foot or so away from the camera.
Increased interest in rhinoplasty is the result, as this procedure can alter the size, shape, and projection of the nose.
Facelift Surgery
For severe skin laxity, individuals may need to have a facelift to get the results they need. A facelift procedure removes excess fat and tightens the facial tissue for a fresher and more contoured facial appearance. For some, rhinoplasty or eyelid surgery can be combined with their facelift for the best outcome.
The upward trend of facial rejuvenation procedures will continue as the coronavirus pandemic lingers on. And with practices of social distancing and wearing face masks, more people have become extra motivated to plan their dream procedures.
Interested in Learning More?
We at Plastic Surgery Specialists look forward to helping you achieve beautiful results with great facial rejuvenation procedures. Don't hesitate to schedule your consultation by contacting us at 205-298-8660 or filling our online form.