4 Minute Read:
SkinMedica® is an effective medical-grade skin care option endorsed by and available through board-certified plastic surgeons and dermatologists. This professional skin care line is backed by thorough scientific research and produces the kind of results many have come to expect from Allergan™.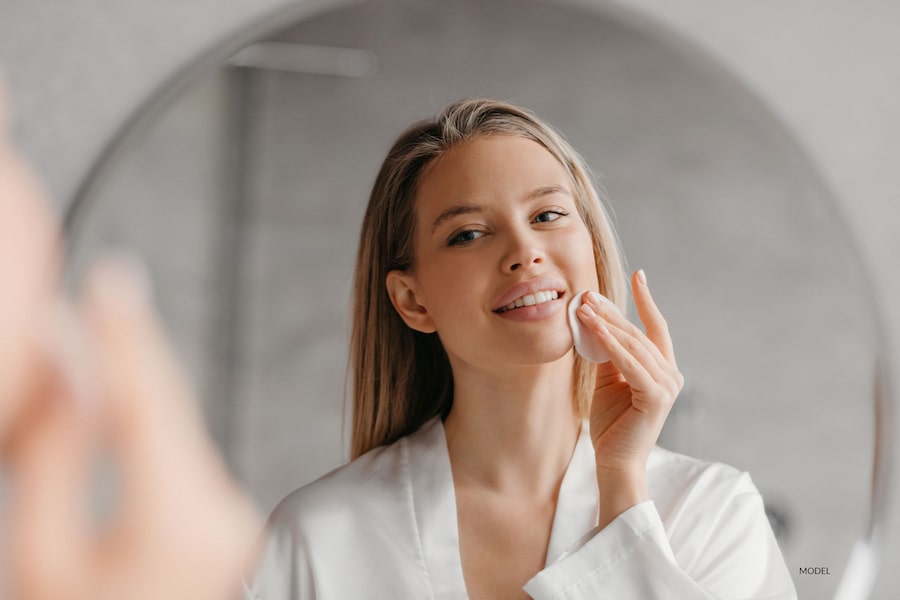 While a consultation is advised to learn more about your skin and how SkinMedica® can help you, the following information will educate you about SkinMedica®.
Early Intervention for Skin
It is never too early to start caring for your skin. In fact, the earlier you start with quality skin care products, the better.
Start protecting your skin in your early 20s to support its ability to retain water and avoid dehydration.
HA5® Rejuvenating Hydrator
The natural hyaluronic acid (HA) in your skin helps it retain moisture and stay healthy. Your skin can start to lose HA as early as age 20, and it is estimated that your skin procedures one percent less collagen each year. That means that by the time you are 50, your body is producing roughly 30 percent less collagen than it did in your youth.
HA5® Rejuvenating Hydrator contains five separate forms of HA as well as potent antioxidants that work to smooth the appearance of fine lines and wrinkles and replenish HA levels for overall skin health.
HA5® Smooth and Plump Lip System
Along with HA5®'s ability to deeply moisturize skin, it is used in this system to hydrate skin cells, smooth fine lines, improve definition, and plump the lips.
Add one of the following sunscreens to your skin care routine for optimal protection.
SkinMedica® Daily Sun Protection
Protecting your skin from the sun is the best way to delay the aging process and maintain the health of your skin. 
Choose from:
Essential Defense Everyday Clear – Broad Spectrum SPF 47/PA++++ sunscreen
Sheer formula for oily or combination skin
Essential Defense Mineral Shield – Broad Spectrum SPF 32/PA++++ tinted sunscreen
Sheer, tinted formula for post-procedure or sensitive skin
Essential Defense Mineral Shield – Broad Spectrum SPF 35/PA++++ sunscreen
Sheer formula for post-procedure and sensitive skin
Total Defense Sunscreens for Aging Skin
These revolutionary superscreens can be used at any age and provide aging skin the maximum protection it needs from the sun's UVA, UVB, and infrared rays. These products include SOL-IR™ Advanced Antioxidant Complex to support your skin's ability to heal itself.
Choose from:
Broad spectrum SPF 34/PA++++ sunscreen
Broad spectrum SPF 34/PA++++ tinted sunscreen
Broad spectrum SPF 50+/PA++++ sunscreen
SkinMedica® Anti-Aging Products
Over time, our skin produces less collagen and elastin, which leads to fine lines, wrinkles, and poor skin texture. In addition to the sunscreens above, the following SkinMedica® products are recommended to combat common signs of aging:
TNS Essential Serum® and TNS Recovery Complex®
These formulas contain antioxidants, peptides, and naturally occurring growth factors, along with other specialty ingredients designed to reduce the appearance of fine lines and wrinkles while improving tone, texture, and overall skin health.
Retinol Complex With PhytoShield™ Complex
Frequent exposure to the sun contributes to the deterioration of collagen fibers within your skin. This product delivers retinol to help renew skin and reduce the appearance of fine lines and wrinkles, with less irritation than is often associated with retinol solutions.
Retinol Complex is available in three strengths.
Retinol Complex 0.25
Retinol Complex 0.5
Retinol Complex 1.0
Vitamin C+E Complex
This solution contains high levels of vitamins C and E for superior antioxidant protection.
Hydrating Complex
This product is clinically proven to increase the benefits of a daily moisturizer like the HA5® Rejuvenating Hydrator.
Skin Discoloration
Skin discoloration or hyperpigmentation is caused by excessive melanin production, leading to uneven skin darkening.
Skin brighteners can help improve the appearance of skin by addressing discoloration and balancing skin tone.
Lytera® 2.0 Pigment Correcting Serum
This advanced serum provides a dramatic reduction in skin discoloration for all skin types and tones.
Lytera® 2.0 Advanced Pigment Correcting System
This all-inclusive system rejuvenates, evens tone, and protects the skin from UV and infrared rays.
It includes:
Lytera® 2.0 Pigment Correcting Serum
Rejuvenative Moisturizer
AHA/BHA Cream
AHA/BHA Exfoliating Cleanser
TOTAL DEFENSE + REPAIR Broad Spectrum SPF 34 /PA++++ Sunscreen
Retinol Complex 0.5
Premium SkinMedica® Travel Bag
SkinMedica® also offers a wide range of gentle cleansers and moisturizers for skin basics, as well as eye serums and acne treatments.
Using SkinMedica® After Non-surgical Skin Care Treatments
SkinMedica®'s medical-grade skin care products are beneficial by themselves and when combined with the following procedures:
The Apollo™ system uses advanced, TriPollar radio frequency (RF) technology for anti-aging contouring treatments on the face and body. You may choose this procedure to treat:
Cellulite
Fat around the waist
Localized pockets of fat
Loose skin
Stretch marks
Wrinkles
Treatment with the Apollo™ system is virtually painless and requires no downtime.
Also known as collagen induction therapy, microneedling is a tried and true skin treatment that helps with overall skin quality. This procedure promotes the new production of collagen and elastin.
Patients can expect smoother and softer skin 30 days after treatment, with continued improvement over the following six months. You can expect these benefits from your microneedling procedure:
Significant reduction in acne scarring
Softer skin
Smoother skin
A more vibrant and youthful appearance
SkinMedica® in Birmingham, AL
Dr. Jason Jack and Dr. Robert Oliver, Jr. are board-certified plastic surgeons who endorse and provide SkinMedica® products in Birmingham, Alabama, along with a wide range of surgical and non-surgical procedures to keep you looking your best!
Call us today at (205) 298-8660 to schedule your personal consultation!