2 Minute Read: 
Cosmetic surgery has helped many women who are dissatisfied with their breasts. Whether it's the size, droopiness, shape, insufficient cleavage, implant issues, or other perceived "damage," plastic surgery can address your concerns. But which surgery is right for your situation?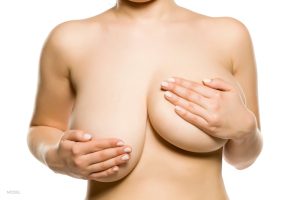 Consider these popular procedures and the problems they help resolve.
Are You Unhappy With the Size of Your Breasts?
Are you looking to go bigger or smaller? If you've always had small breasts or lost breast size due to childbirth, nursing, or weight loss, breast augmentation can help. During this procedure, our surgeons insert implants to give you larger, fuller breasts.
Breast augmentation also gives you firmer breasts and enhances the shaping and contouring of your bust. In fact, that's why we also recommend this surgery if you have asymmetrical breasts or breast shape challenges. Using differently sized implants and tactical placement creates transformative results.
For women who are plagued with the restrictions or physical constraints of overly large breasts, a breast reduction may be the best solution. Our doctor assesses your situation and chooses between three common techniques to address the issues you are experiencing—from small volume removal to nipple repositioning to larger reduction to lifting and reducing your breasts.
Are You Dissatisfied With Your Implants?
When an implant ruptures, shifts, hardens, develops capsular contracture, or causes you concern in some other way, removal is the logical next step. In some cases, the implants haven't malfunctioned in any physical way. You may simply no longer want them.
Discuss the various breast revision options with our surgeons—implant replacement, permanent removal, and breast lift surgery with removal—to decide what will be most beneficial for your situation.
Are Your Droopy, Saggy Breasts a Cause for Despair?
Age, pregnancy, milk production, weight loss, and weight gain can transform your breasts into elongated, deflated, limp udders that you may not even recognize. Happily, a breast lift restores your breasts to their former youthful, perky glory. Nipple repositioning may be in order as well for better aesthetics. A breast lift is also often paired with breast augmentation, breast implant removal, or breast reduction.
Are You a Breast Cancer Survivor?
We're very happy to hear that you beat your cancer battle. If a mastectomy was part of your treatment, and you want to reclaim your breasts, our team provides compassionate breast reconstruction services. We work with you and your other doctors to design a plan that suits your specific medical, emotional, and aesthetic needs.
Are You Ready to Love Your Breasts?
Plastic Surgery Specialists of Birmingham, Alabama, can help you with that. Call 205-298-8660 to schedule a consultation with one of our skilled surgeons. We'll help you determine which procedure is best suited to your breast issues.